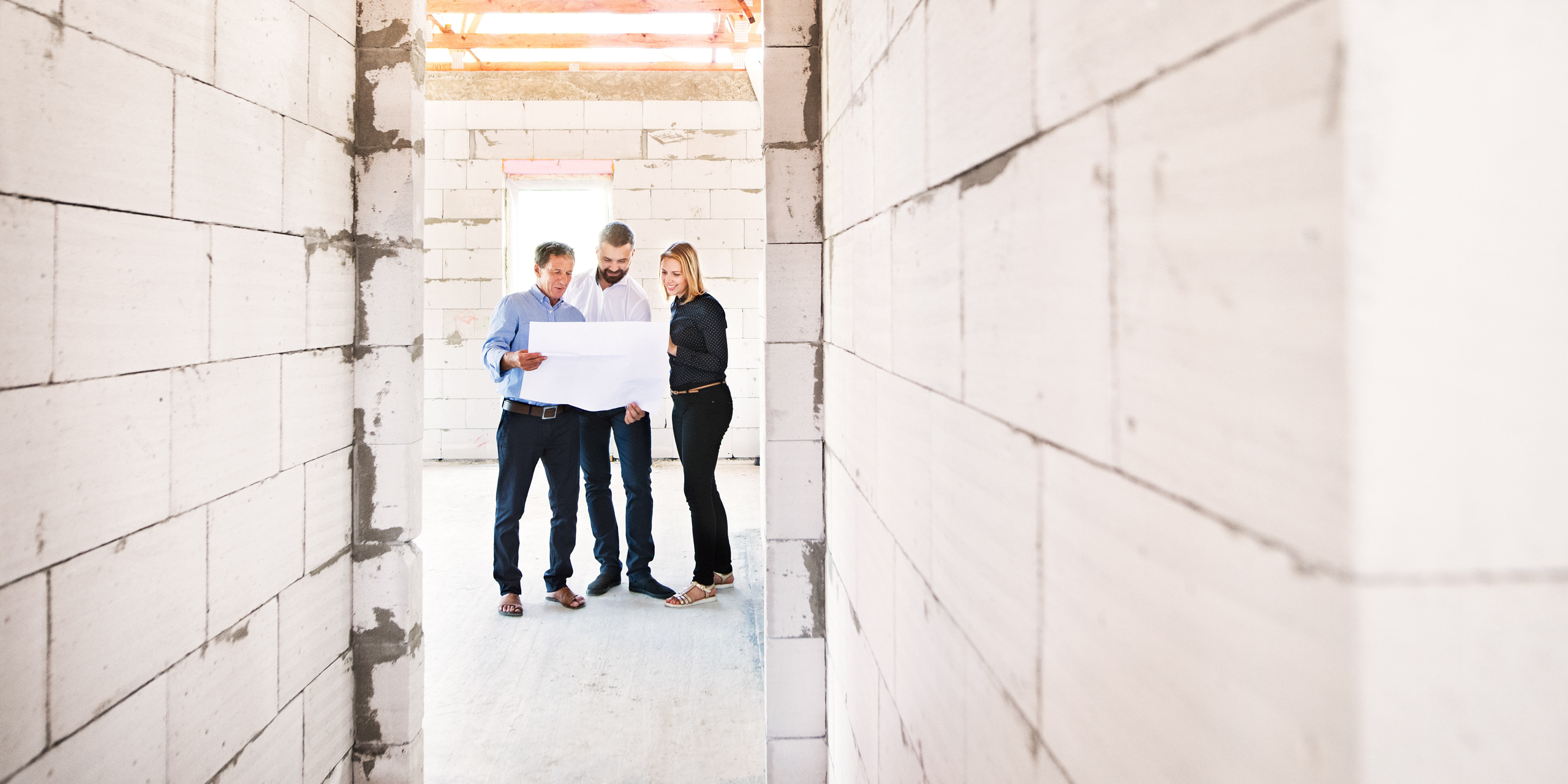 Many homebuyers in today's market are turning to new construction as a solution to low inventory but also for the perks of building a home customized to them.
Data shows that new home purchases continue to outpace last year's numbers, with July 2023 applications up 35.5% from 2022, according to data from the Mortgage Bankers Association (MBA) Builder Application Survey.
If you're ready to begin the search for your dream homebuilder, we've got seven tips to help you get started.
Step 1: Consider Your New Home Priorities
We recommend first thinking about what's important to you regarding your new home as it will affect your homebuilder decision. You'll want to know what your must-haves are so that you can find a builder whose portfolio and style match your needs.
Determine Your Ideal:
Location
School District
Lot Size (Especially if Your Family is Outdoors Often)
Backyard Size (Especially if You Have Pets)
Price Range
Home Style
From there, you can find a builder that meets your requirements at a good value.
As far as your price range, we can review your financial scenario and preapprove you so that you know how much home you can afford. Get preapproved in minutes here.
Step 2: Settle on a Location
Decide whether you want to live in a new home neighborhood or build on your own lot. Many custom homebuilders build exclusively in their own private neighborhood.
Step 3: Research the Top Builders in Your Area
Search for online reviews for local builders to see which are the top-rated in your area. You can find reviews on Google, Yelp and Facebook as well as sites specific to rating homebuilders:
NewHomeSource: Read reviews from real homebuyers and view ratings based on quality, value, trustworthiness and responsiveness.
Avid Ratings: In their words, "Avid Ratings is an independent customer experience research firm with the largest and most comprehensive homebuyer experience database in North America."
Eliant Experience Management: Eliant rates builders based on feedback from recent homebuyers on the builder's purchase process and evaluations from homeowners regarding how the builder's quality and service holds up over time.
Your real estate agent can also direct you to potential local builders. Oftentimes, Realtors® partner with specific homebuilders.
Step 4: View Builder Portfolios
Once you've done some research and compiled a list of potential builders based on your desired neighborhood, Realtor® recommendation or customer reviews, take a deeper look at each builder's portfolio.
If you have a specific style of home in mind, compare that with previous homes they have designed. Typically, you can find a gallery of floor plans and front elevations on the builder's website.
Step 5: Visit Showrooms and Jobsites of Potential Homebuilders
In addition to viewing their online portfolios, you can request to visit complete homes and current jobsites with potential builders.
When you're there, make sure to take note of a few things:
The Team Building the Home
The Quality of Construction
The Finishes in the Homes
Jobsite Cleanliness and Safety
How Hands-on the Builder is With Their Team
Step 6: Interview the Builder
Before you sign on the dotted line, make sure to interview the builder – after all, they will be working for you. Come prepared with a list of questions to ask and topics to discuss.
Some ideas include:
How Much You Can Customize the Home Plans They Offer
How Your Questions and Concerns Will Be Addressed During Construction
How Long Construction Should Take
How They Service Warranty Issues Once You Move in
If the Contract They Offer is a Fixed-Price Contract
Who's Responsible for the Interest Payments During Construction
Who's Responsible for Paying the Insurance During Construction
Step 7: Financing Your Dream Custom Home
Once you've narrowed down who you want your homebuilder to be, it's time to evaluate your financing options! At Premier Mortgage Associates, we offer Construction-to-Permanent loans for single family primary residences.
How Our Construction-to-Permanent Loans Work
Construction-to-Permanent loans, also called Construction-to-Perm or CP loans, are used to build a home on a lot you own or one you wish to purchase. It's just like any other loan that you're used to, except it's divided up into two phases. You have your construction phase, which is at the beginning, and when the home/project is 100% complete, then your permanent phase where you pay back the construction loan and replace it with permanent mortgage.
The Benefits of Our Construction-to-Perm Program
Available for Single Family Primary Residences
You Can Qualify to Receive Financing up to 100% Depending on Your Loan Program
If You Qualify, We Can Offer FNMA, VA, Jumbo, Investment or Second Home
The Construction of the Home Can Be Concrete or Stick (Wood) Builds
Depending on Construction Technique, We Can Also Allow for Modular Builds
Build on Your Land or Purchase a Package
Fixed Interest Rates During Construction Phase
What You Can Expect With Our Construction-to-Perm Program
Once you reach out, our dedicated Construction-to-Perm team will start your application and request documentation to qualify you for the loan. If you've chosen your builder, we will need to complete a background check on them BEFORE you sign a contract to ensure they have a low risk of causing any defaults.
If we do not have a current relationship with your selected builder, we will send them a relationship packet to complete. The rest of the process moves like a regular loan – once you close on the land and house with the construction phase loan terms, building will start. Once the construction is completed, the city has issued a Certificate of Occupancy and we have collected all completion documents from the builder, we will modify to the permanent loan.
Get Started Today With PMA
Take the first concrete step (see what we did there?) toward your new custom home – get preapproved in minutes so you know how much you can afford. We can't wait to work with you to finance your dream custom home!